K-9 & Patrol
K-9 RYDOR AND SGT. WILSON
K9 Rydor is a three year old Belgian Malinois. He was bred in France and initially trained in Germany and Tennessee. Rydor along with Sergeant Chris Wilson completed training and handler school in Independence Missouri through the Missouri Police Canine Association.
Rydor is very adept in the skill of locating controlled substances to include Methamphetamine, Cocaine and Heroin. Rydor has been trained in tracking and apprehending fleeing subjects, as well as protection services to include protecting his handler. Rydor also has finely honed skills for article searches, and individual person searches. These skills are valuable in Benton County as the county experiences many incidents, which require these skills.
K9 Rydor works a 12 hour shift with K9 Handler Sgt. Wilson and is on 24-hour call in the instance some type of search may be required. His skills are utilized for vehicle searches, residence checks, building searches, detention searches, suspect tracking and apprehension, searching for tossed articles, and persons who have wandered off.
K9 Rydor and Sgt. Wilson train weekly and recertify annually to maintain the skills and certifications required for the job. Although K9 Rydor is fairly new to the agency, thus far he has done many vehicle searches, person tracks and helped the Sheriff Office fight crime within the county. K9 Rydor and Sgt. Wilson also contribute their time and skills assisting Mid Missouri Drug Task Force detectives in locating controlled substances.
Sgt. Wilson is assigned to the Patrol Division, and in addition to his K9duties, is the supervisor for his shift, and assists with the daily supervisory duties of other shifts. He answers calls for service, takes many reports, conducts many traffic stops to curb both accidents and drug trafficking, and assists the agency when possible. K9 Rydor and Sgt. Wilson spend nearly the entire day of every day with one another, thus creating the bond that makes them effective partners to combat crime.
Patrol Division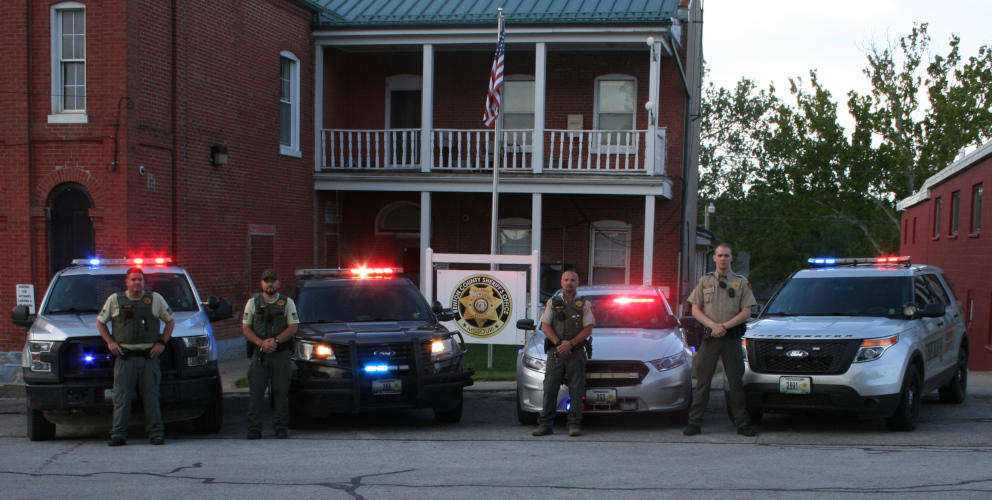 Mission Statement of the
Benton County Sheriff's Office
The Benton County Sheriff's Office strives to maintain the upmost professionalism while protecting the citizens of Benton County. As public servants, we are held to a higher standard and are required to be thorough in everything we do. Our mission is to maintain a safe and secure environment by providing a prompt, effective, and service oriented law enforcement personnel to the citizens of Benton County. We wish to continually improve the public's perception of our community safety through eradication of criminal activity, transparency, community relations, and a positive presence of law enforcement in our area.
Administrative Division:
Is comprised of full time civilian and commissioned deputies tasked with the service of civil papers, court services, budgetary management, evidence tracking, offense report computer entry, sheriff's office personnel management, payroll, and administrative assistance to the Office of the Sheriff among other duties.
The Administrative Office is open Monday through Friday from 8:00 a.m. to 5:00 p.m.
Requests for Documents will be accepted Monday through Friday from 8:00 a.m. to 5:00 p.m. Requests may take up to three days for processing.
Court Services Division: (Attached to the Administrative Division)
The Court Services Division personnel have the responsibilities of providing and maintaining an orderly and safe environment for all visitors and employees within the Benton County Courthouse facilities.
Patrol Division:
Located within the state of Missouri, the Benton County Sheriff's Office is a full-service law enforcement agency capable of enforcing all law by way of upholding the Constitution of the United States and the State of Missouri. The Patrol Division provides 24 hour daily service for all unincorporated areas of the county plus some municipalities
The patrol division currently consists of:
1 Lieutenant
4 Sergeants
7 Deputies
1 K-9 "Billy"
1 K-9 "Rydor"
The Deputies and Sergeants are responsible for patrolling the unincorporated parts of Benton County; this includes approximately 748 square miles of Benton County. They respond to emergency and non-emergency calls ranging from life threatening situations to civil standbys.
Each Deputy attempts to handle every call in the most professional manner possible and respond in a timely manner.
Duties and Responsibilities:
Include investigations, preventative patrol, selective enforcement, response to calls for service, disturbances, domestic violence assaults, residence and business alarms, investigation of traffic crashes, traffic enforcement, incident reporting, warrant service, service of Court ordered papers, and to provide assistance to any other Police Departments or Sheriff's Offices on calls in their cities or counties when requested. They also assist other divisions within the Benton County Sheriff's Office when requested.
The Patrol Division advocates preventative patrol and strives to maintain high visibility as a way to deter crime. The Division also utilizes numerous area checks throughout the county in its crime preventive methods.
The safety of the motoring public is always a major concern. Through Partnerships with the Missouri Department of Transportation-Highway Safety Administration, and the Missouri Safety Center, the Sheriff's Office has made great efforts in reducing the number of injury and fatality crashes as well as selective traffic enforcement in areas that have a high potential for traffic violations. These activities are enhanced through the Missouri Department of Transportation – Highway Safety Division providing overtime funds for deputies to work selective enforcement of hazardous violations and DWI enforcement to help protect the citizens of Benton County and people visiting Benton County.
Reserve Division:
The Reserve Division is made up of commissioned Reserve Deputies and non-commissioned Auxiliary Personnel. All members of this unit are volunteers. The purpose of this unit is to work side-by-side with full-time employees and assist with all law enforcement activities as directed by the Sheriff of Benton County.
All Reserve Deputies must have successfully completed a criminal justice training academy approved by the State of Missouri. All Reserve Unit members work a minimum of 8 hours per month and attend training sessions.


Our community is important to each member of the Benton County Sheriff's Office. As such, the Sheriff's Office primary objective is to provide a safe environment for our citizens and visitors by maintaining order and enforcing the law impartially while being committed to protecting the lives, property, and rights of all people while demonstrating the highest degree of ethical behavior and professional conduct at all times.

Patrol Commander

Eric Knox
Sheriff


Dean Noll Major
Under Sheriff


Sgt Chris Wilson
Night Shift Supervisor
Court Deputies